Coming Soon!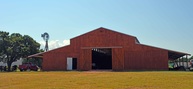 Opening Spring 2017!
The "Fillmore Ball Agricultural Center!"

Groundbreaking was made by Milta Carter on 10/31/14 to start construction on our 9,200 square foot barn. The facility will be used to house the Museum's collection of wagons, buggies, farm equipment, and a 1924 Model T (donated by Don & Estelle Fisher of Belton, Texas), as well as tell the story of agriculture in this region. The building features old barn wood, sheet iron, etc. for a vintage look, and will house the Museum's classroom/workshop to be used for our educational programs, as well as the Museum's custom frame shop. Check out the slideshow below for our progress!

---

Major Contribution to our Leather Story!

John Glaze, who played H.J. Justin in our award-winning video "Spirit of the True West," has generously donated his boot maker's collection to the Museum! This unique set of artifacts includes an 1800s boot making shop, a 1900s boot making shop, many vintage boot making and leather working tools, as well as his library of boot making books, videos and oral histories of old-time boot makers.

---

This collection will be a hub for boot making research and a primary part of our permanent leather exhibit, as we complete our west wing. This type of exhibit will be of a similar quality to our current Native American Exhibit Hall, so will be very expensive to complete. We will gladly accept donations for this project! To get a taste of the scope of the research material which will be included, please check out the
John Glaze Library
.
---