Agriculture Collection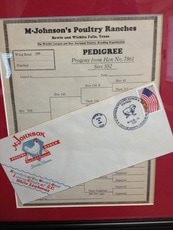 Montague County was once noted for its rich prairie grass on which millions of buffalo roamed and grazed, as did the livestock of Native tribes and early settlers. Cotton was King until the boll weevil took its toll, then wheat became the major cash crop. Grapes were an important industry in the past, and once again are making a comeback with our wineries.

Past farms produced watermelon, peanuts, peaches and apples that were shipped nationwide. The Mose Johnson Poultry Ranch was once the world's largest supplier of baby chicks. Today the county is widely known for its cattle and horse ranches and game preserves.

Our 9,200 square foot barn (the Millard Fillmore Ball Agriculture Center), will soon feature many agricultural artifacts from our County's history!

---