Leather Goods Collection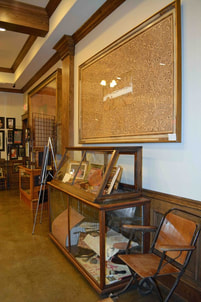 Since the beginning of the Texas frontier, leather products have been a booming industry in the Nocona area. Chisholm Trail cowboys needed boots, saddles, whips and other gear. H.J. Justin started making boots on the Red River in Spanish Fort in 1879. When the railroad moved to Nocona, so did he, doing business as H.J. Justin and Sons. After his death, his sons moved to Fort Worth and started Justin Boot Company. His daughter, Miss Enid Justin, "The Lady Bootmaker," founded the Nocona Boot Company in 1925. Here they produced boots that became legendary and were a vital part of the economy here until 1999.

Not just boots and saddles comprised the local leather goods industry. Nocona Athletic Goods, under the trademark "Nokona" has been producing hand-made baseball gloves, footballs and other leather sports equipment, since the 1930s. In fact, the Company is credited with inventing the modern-day, pointed-end football!

Completing the Museum displays are Dell Motley's hand-tooled inspirational leather creations, demonstrating her talent, dedication and faith in creating magnificent works of art.

---