Western Heritage Collection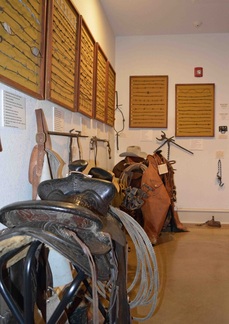 North Montague County saw millions of Texas Longhorns on their way to Kansas markets on the famous Chisholm Trail. Drovers pushed steers through the County to Red River Station, where the Trail crossed the mighty Red River. Nocona's annual Chisholm Trail Rodeo with a history spanning over sixty years, pays tribute to the cow hands that worked the Trail.

Three Montague County women are members of the National Cowgirl Hall of Fame in Fort Worth: Miss Enid Justin (Nocona Boot Company founder), Ruth Roach Salmon (bronc rider and trick roper for the Buffalo Bill Wild West Show and the 101 Wild West Show), and Donna Howell-Sickles (cowgirl artist from Saint Jo).

---