Oil & Gas Industry Collection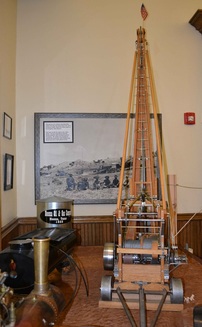 Traveling in and around Montague County, one can't help but get an idea on how important the oil and gas industry is here. The North Field, located about ten miles north of Nocona, started commercially producing oil in 1922. This 12,295 acre field still produces oil today. The recent discovery of the Barnett Shale formation continues the importance of the petroleum industry, with the production of natural gas.

The Tales 'n' Trails Museum houses several artifacts in both indoor and outdoor exhibits chronicling the history of the oil and gas industry in Montague County, including a working 1/6 scale replica of a Fort Worth Spudder!

Don't forget to check out our Pumper's House behind the Museum for a look at what living as an oilfield worker in the 1920s and 1930s would have been like!

---