Past Events, Activities & Exhibits


A Native American Experience
Bill Glass, a Forensic Historian, brought some of his Native American collection to the TNT and talked about the tribes which occupied Montague County in the 1800s.

---

Up the Chisholm Trail
Alan Schlegg from the Denton County Museum talks about the Chisholm Trail - and John Glaze gives a boot making demonstration, making that part of local history come alive!

---

The Lion of Texas
The story of Sam Houston and the early years of Texas comes alive in this two-act play
produced, acted, and directed by Gainesville attorney and thespian, Sam Houston. What better way to hear about Texas history than from Sam Houston himself! (
www.LionOfTexas.com
)
DVD's of the performance are on sale in the Museum Gift Shop!
---

Montague County Artists of Yesteryear
Exhibition of paintings, ceramics, textiles, leathercraft, sculptures, and other art created by some of the area's artists of the past.

(Painting by Wichita Falls artist, Polly Hoffman 1890 - 1949)

---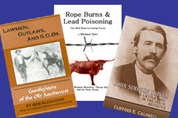 Barbs, Bullets & Blood:
The Wire War That Revolutionized Texas!
Clifford R. Caldwell, Harold D. Jobes, Michael Barr, and Bob Alexander present the story of barbed wire - a tale of innovation and imagination, entrepreneurship & salesmanship, legislation and lawlessness.

---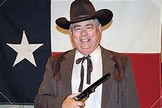 Gunslingers of Texas
Bill O'Neal, Texas State Historian, presents the story of the Texas gunslingers and talks about the revolution in firearms in America between the 17th and 20th centuries.

---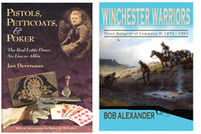 Wild West Book Review
with Bob Alexander and Jan Devereaux
The Wild West comes alive as these entertaining authors discuss their books. Bob Alexander, a retired special agent with the US Treasury Department, highlights his book "Winchester Warriors," while Jan Devereaux entertains with another side of the Wild West depicted in her book "Pistols, Petticoats & Poker", the story of Lottie Deno, the lady who inspired the character of Miss Kitty in Gunsmoke.

---

Iris Greenwell Photography Classes
Learn how to use your SLR camera from noted Fort Worth photographer, Iris Greenwell. Photograph either from a live model for portrait instruction, or as a field trip for landscapes and other types of photography. Direct hands-on instruction to help you improve your photography skills.

---